Donette placed in our recent VT15 Venus Transformation Contest.
She did a phenomenal job and her results display the hard work she put in. Her transformation stretches out further than this 12 week period though, she has lost over 100 lbs!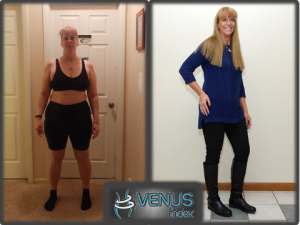 Donette before starting Venus in 2014 and after this 12 week contest, unbelievable!
Here is what Donette had to say in her own words:
No matter how many times you are told something, do we really hear it? How many times have I heard "the scale is just a number?" " Don't let the scale get you down" "the number on the scale does not define who you are" Yes I have those sayings up on my computers both at work and at home, on my mirror and my refrigerator. But I never really listened and opened up my mind till now. Let's rewind 14 years ago when I moved here from Arizona a depressed 270lb single mother of an almost 3 year old. I had once had a membership to Bally's before I married my first husband, but I was way too embarrassed to go back to that meat market setting, so I joined Curves for women. I did well with Curves, between their diet program and workout machines I dropped 70lbs. For several years I would bounce between 200-230. I couldn't get below 200 then I would go back up. I tried Medifast, HCG, diet pills, 3 different Curves diet plans, everything would work for a little bit, but then I would put some back on. For my second wedding I was able to get down to 175, then after the wedding I was right back up. March of 2014 I was on Facebook and saw an ad that has changed my life. Do I normally look at ads? Nope, and I have no idea why I that day I chose to watch the full add for Venus Index but it was the best decision I ever made (along with the best $47.00 I have EVER spent!) March to November I did well, I followed the protocol, all my days weren't perfect but life is a learning process. I wasn't really interested in the weight lifting. I hated it when I had to in school, me Bally's experience was horrible so there was no way I was joining a "real" gym. My son and I would do a workout or two per week and that was about it. I was able to drop down to the low 170's and would go back up to 180. I introduced my sister to Venus in November, she was going to Gold's and I decided to start going with her @ 5am. We would work the machines 2 days a week and were doing the main Venus program the other 3. dropped down another 10lbs into the 165-170's. Starting in January this year Gold's was doing a contest coinciding with Venus, I thought perfect I can do both at the same time! Did well the first 6 weeks then fell apart. I was higher at the end than when I started, and I didn't even finish VT13. So VT14 came around, again I'm going to do this, made it 8 weeks and crashed and burned. At that point I felt my body was wanting to stay right where it was at and I was done. My only goal at that point was to just finish the contest, which I did. I started this contest balls to the wall staying at my 1000 calorie deficit with maintenance days, working out 2 times a day, then 4 weeks or so in Labor Day hit. I was running my Chihuahua in an AKC Agility trial and at the end of my run: I came down hard on my right leg, jamming my knee and messed up a ligament. Holy Crap! I don't have time for this, I'm trying to get Fiona to AKC Nationals next year, I'm driving across country with 3 dogs that I have registered in the TDAA Nationals in October. I'm kicking butt and staying on track and all of the sudden it all comes to a screeching halt. Or so I though at first . Turns out this injury that kept me from doing and lower body work besides walking for 4 weeks ws the best thing that could have happened to me. Liss put me in touch with my mind. Yeah I know it sounds kinda weird, but she sent me homework to work on my mind, to change the way I think of myself and to improve my self-confidence. Instead of throwing in the towel, I put up the scale. Instead of giving up on me (like I have done so many times before), I gave to myself. I gave myself the freedom to quit worrying about the wrinkles, the stretch marks, hips, belly and bat wings. Instead I have found the good in them. I realized I need to love myself. Once I started to love myself, so many good things started to happen. Barriers and walls that I had built on my mind started coming down. My self-confidence is rising and I've been able to do some of the things I though I could never do. The best thing is that none of them had a thing to do with a scale or what "number" I'm at. Vacation was a blast; my girls ran great with me and even earned placements at the National event. I was able to make great choices travelling for 10 days and maintained the entire time. Even though I had fun with Liss's band workouts she sent to me to use at the hotel, I realized I LOVE my weight lifting and missed it! After we came back from vacation, I hit another 20+ year goal of climbing the Manitou Incline. I was afraid to try, 1 mile up over 2,000 steps and I can not remember the elevation change. It took us 2 hours, but we did it and I can't wait to do it again! I also bought my very first "little black dress". Besides my wedding dress, my husband had never seen me in a dress before. My son rides a dirt bike and my husband and I have ATV's that we like to ride when we get a chance. All of my ATV pants are what the call OTB or over the boot pants. I would have to buy those because I could not get my calves and pants both into my boots. The beginning of the year I bought a pair of regular pants, the calves fit, but I could not get them zipped. WOOHOO they finally fit, now I'm ready to ride! Yes I've had my stumbles along the way and will continue to have more in my journey. Now I have gained the knowledge and I have the tools to move on and get past those struggles to a greater place in my mind. I have the loving support of my husband and son, and a wonderful Venus family. What's next? No longer are the thoughts of I can't, because I know I can do anything I put my new healthier mind to. Balloon ride, Whitewater rafting, zipline again this summer, hiking a 14ner in my new boots I earned just this week, they are on my short list. Who knows you just might see me running one of my girls on TV someday 🙂

Donette at one of her heaviest weights before finding Venus and after, WOW!
Donette's Metrics
Weight
Height
Waist
Shoulders
Hips
Before
165 lb
69 in
31 in
42 in
40 in
After
151 lb
69 in
28.5 in
42 in
38 in
Deltas
-14 lb
0 in
-2.5 in
0 in
-2 in
Donette is a beautiful Venus! Nothing can stop her now!
Listen to Donette's interview with Liss below, or download it for later:
Podcast: Play in new window | Download