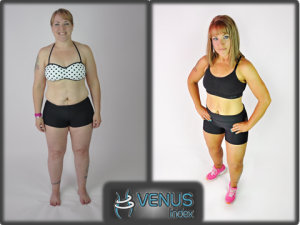 Julie placed in our recent VT14 Venus Transformation Contest.
She did a phenomenal job and her results display the hard work she put in. Her transformation stretches out further than this 12 week period though, she has lost over 70 lbs using Venus in the past 15 months!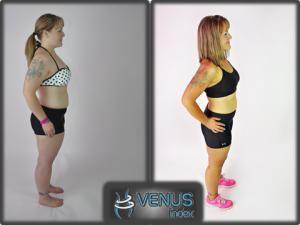 Here is what Julie had to say in her own words
My name is Julie; I'm a 35 year old wife and mother of 2. My whole life has always been about food, size, weight and all those terrible things that get stuck in your head when that is all you hear all the time. I remember my mother always on some kind of diet or trying the new diet pills. I started to be concerned my weight starting around 12 years old. I remember my sister telling me to "suck it in" when others were around or to cover up my big booty. I ended up with eating disorders and low self-esteem by the age of 15. By 16 I was a full time binge and purger and when I could control it all I would turn anorexic until I had to eat or someone said something, then it was back to binging and purging. It is still a constant reminder in the back of my head how easily all this could end up right back there where it all began and hurt the worst. I struggled with this even after I had my first child. Not long after my second child I needed a hysterectomy and most of my hormones were taken. I gained so much more weight and I could not control it. For the past 7 years I have just tripled in size. I looked in the mirror and I did not even know who I was anymore. I decided to do something about it. I have been a member of the local YMCA for years and have never utilized it before, only the kids have. So my friend and I started out with a HITT class and step aerobics and even some kick boxing 4 days a week and was trying for 5 days a week when I noticed my scrubs pants were getting even more tighter, I then decided to weigh myself…I had gained 15 more pounds, 223 lbs. was hard to carry around. I just cried and cried, I was doing so much, my body was so sore and now my self-esteem was totally gone once again. I just wanted to eat and eat, but I didn't. I spoke with another lady about my struggle and she suggested lifting more weight and keeping my heart rate down to burn the fat. She suggested Venus! I noticed our YMCA offered a class so I tried it. I noticed the class was at a crazy time, so I worked it out with my boss to be able to go to these classes on Monday, Wednesday and Friday. The first week was very different in how my body felt after a good lifting workout rather than a cardio workout. I was just a sweaty, out of breath and sore as I was with a cardio class but the difference was I was not starving after class. I wanted to know more about Venus, so I got measured and weighed and I was entered in to a nutrition guide and received my calorie count and protein goals and my VI. This is where things started to change. In a weeks' time from this I was losing and I could feel it. I was feeling amazing. After a couple of months one of the contests ended and one of the ladies in my class placed! It was so exciting to see her transformation. I decided to enter the next one. I entered that next contest to see what it was all about. I wanted the nutrition side as well as the exercise. So I took my first photos and cried and cried and entered the Venus contest. I could not believe I let myself get that heavy. I did 12 weeks of exactly what it said for me to do. Even when I was nearing the end of the contest I felt like had so much more energy I was able to start doing more active things with the family like going to the park or play basketball with my son. The contest came and went and I did not place…I still continued with my journey though. I worked out and ate my deficit calories when I should and my maintenance when I should and kept on with my habits of not over eating. The next contest came and went and I had plateaued for most of those 12 weeks. Again one of my co-workout buddies placed in the contest. I re-evaluated my nutrition and calories and why was I stuck? So I decided to try the contest again. I was stuck in a plateau for a while now so I was really trying to get even getting a pound off that would have given me hope. Then I thought, "I need to fast, this will be what my body needs for sure." Sure enough I broke through the plateau and managed to start losing again. I did a few things different this time around. I worked out hard and if I did extra it was Venus exercises always. I also made sure I hit my protein goal and had a very fiber rich diet. My goal of course was to lose weight but to gain muscle definition. I did not want to be skinny where my bones stuck out and you can see my ribs, but to be strong and defined in my muscle contour. I want to look like I work out as hard as I do. I wanted people to ask me what I did to change. (They do!) I have learned so much from the last year of learning to life a healthy lifestyle and learning to love myself once again. I could not do anything more for my family than to be here in the present with them and able to participate in life with them. I have given myself a new future, a healthy future. A future I am excited to move forward in. I know that if I go back to my old lifestyle, I will be right back to that girl that is struggling with an eating disorder. This was not easy or everyone would be doing it. It is easier than being big and prettier than an eating disorder. Venus has given me the tools to succeed and has also given me a whole community of Venus ladies to swap stories with, get advice on nutrition or even advice on a modified move. I am so blessed to have found exactly what I needed for me, my body and my journey. This will always be the life style I choose to live. I hope my children grow and learn from all of this and never have to struggle with obesity. Thank you Venus, you saved my life.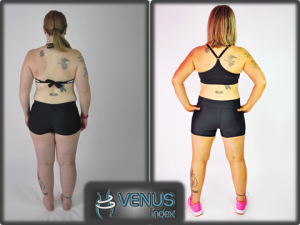 Julie's Metrics
Weight
Height
Waist
Shoulders
Hips
Before
170 lb
63.3 in
31.8 in
43.5 in
43 in
After
157 lb
63.3 in
29.2 in
40.3 in
41 in
Deltas
-13 lb
-0 in
-2.5 in
-3.2 in
-2 in
Listen to Julie's interview with Liss below, or download it for later:
Podcast: Play in new window | Download