During the phase of life when many women struggle with their weight and body image or just decide to let "nature take its course", Lorie took a look in the mirror and decided that there was no reason she should settle for anything less than the best for herself. Inspired by all the changes she saw her own daughter make using the Venus program, Lorie decided to start working out with her so that she could learn for herself how to change her lifestyle and fitness for the better. What happened as a result? Lorie lost an amazing 24 pounds in just 12 weeks and she ended up placing in our recent VT11 contest. Here are her before and after pictures:
In her own words, this 50 year old mom and grandmother told us, "I babysit for my 2 year old grand baby while my daughter goes to work. In that 2 years I have enjoyed eating way too many snacks, cokes and just about whatever I wanted. I did not go too many places, so I just wore my sweats all day and the weight has just crept up on me. I really was feeling depressed, and it was harder to run and play with my grand baby. I decided to do something about It. I joined the Venus contest, and now 12 weeks and 24 pounds later I am seeing muscles I thought were gone forever."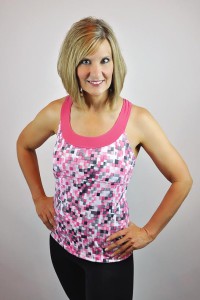 During her transformation process, Lorie learned how to change her eating habits and the way she thinks about food and snacks. She also learned that she actually enjoys working out at the gym and seeing the changes in her body and feeling the improvements in her strength and overall fitness. Now Lorie has committed herself to the process of ongoing and lifelong change. Pleased with her results, but not willing to backslide or ever give up, Lorie told us that she plans to keep applying all that she has learned so far and to keep working on her habits, lifestyle choices and fitness level.
Lorie has figured out what so many people never realize – that having a fit, strong and beautiful body is a lifelong "project" worth pursuing for the many riches it brings. I so enjoyed spending time talking with this wise and engaging woman who has so much to offer and share and we are so proud she chose to share her journey with us!
– Coach Lita
Listen to our conversation with Lorie here:
Podcast: Play in new window | Download