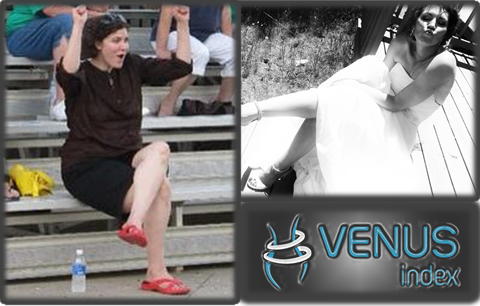 Keturah has been using Venus systems for over 5 years!  Her transformation stretches out further than a 12 week period though, she has lost over ONE HUNDRED pounds!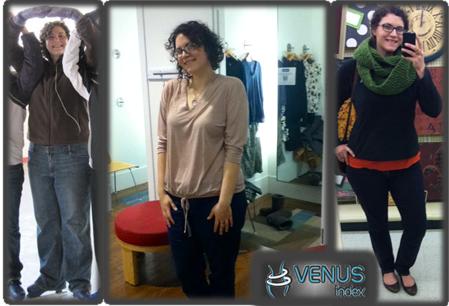 Keturah through the weight loss over the years
(Left) Keturah at her heaviest before finding Venus in 2011
(Middle) Keturah in the middle of her transformation at about 190 lbs in November of 2011
(Right) in the middle of her transformation at about 180 lbs in February of 2012
Here is what Keturah had to say in her own words:
Maintenance: Choosing life.

Maintenance is something you don't hear much about. The fitness world is full of shiny before and after photos with big shiny smiles to match. What no one seems to talk about is the daily practice of life. 

There are some things that set apart maintenance from deficit. Let's focus on what comprises this brave new world. 

I recently reread some of my old blog posts. It was such a wise voice, and it was speaking to me now. (The value of listening to ourselves is great!) First, let me level with you: I am no different than anyone else. Fear creeps in. Old thought patterns start repeating. Fear of rebound weight gain. Fear of not being able to do it. Fear of looking too thin. Fear of people being negative. Fear of not maintaining it for life. Fear of disordered eating. Fear of putting my value in my looks, and not in who I AM INSIDE.


I think the last argument "Fear of putting my value in my looks, and not in who I AM INSIDE" is especially real. It's a fear that many women deal with in our current culture. I've come to realize that while weight, size, shape, and body shape are not my source of identity, being overweight and unhappy with my body can be a road block to feeling good about myself. My insecurity about my body, the shame and guilt I have felt in being overweight: it was real. Learning that I could change that was empowering. But also learning that my body doesn't define me is a mindset that has taken longer to sink in and takes daily practice.

Value where you are at NOW. Comparison is the thief of joy. We all know that popular quote. Sometimes the comparison isn't with other people, it's with ourselves. We can lose a lot of joy comparing ourselves to the past or even to perhaps unrealistic goals and standards. Maybe right now it tough and you don't particularly feel joy. That's okay. 

I am learning to ask myself questions. Why am I feeling this way? I keep asking why. Doing this helps me get to the root of lingering insecurities or issues. I also find out that what scares me is usually not as huge as I've made it in my head.

We think this journey of self introspection disappears when we enter maintenance mode. 

It doesn't. If anything, it began a new season of asking questions, dealing with some old triggers, and learning to trust ourselves in new ways during new seasons and situations. Which is why we also need to work on habits. 

Fear can hold us hostage and make us freak out! But the truth is, it's about choices, not fears. I choose to be healthy. I choose to eat supportive foods that will help my Hashimoto's autoimmune disease and fibromyalgia. I choose to lift weights so I'm strong, lean, slender, and pain-free. I choose to walk to have head space, time to think, reflect, and enjoy the outdoors. I choose to stretch to be flexible, limber, and feel good. I choose to be at peace with my body and take steps that will enable me to continue being Venus for life.

Maintenance is not automatic. It is about daily choices, habits and goals. This isn't glamorous. Habits are choices we make and continue making everyday. I can choose to say "no" to fear and listen to the truth. I can choose not to let my circumstances and past, worries about the future, and other things define me, but to take a step forward and embrace the present, choose joy, and keep stepping forward up the mountain.




I liken maintenance to keeping the house neat, or perhaps tending the garden after the plants have started growing. If you let the little things go–laundry and dishes pile up, floors need swept, garbage overflowing, weeds growing wild–pretty soon the place is a disaster needing a complete cleaning and overhaul. Some daily tidying and daily weeding would have kept those things from happening. Some days we let things go. It's about attending to the dishes before the pile gets too big. Or put it this way: it's paying of the credit card bill at the end of the month instead of letting it stack up for a couple of years until it becomes a mountain of debt!

The habits you begin and consistently choose and practice will be habits that keep you going, even if they change in form. My daily habits are movement (for me that's resistance training, flexibility, and walking); including protein and either fruit or vegetables at most meals; good rest; hobbies I love (makeup, knitting, and reading are just a few!) and relaxing with my husband on the weekends. 

I am learning to balance

 my meals and intake. If we go out on a brewery tour I will enjoy a burger and beer. The next meal or day, I have my coffee  but enjoy water, fruit, salad, and some light protein for the rest of the meals. There is no punishment, no reproach. No starvation, no forcing of food. I just listen to myself. 

Maintenance is the season I have really learned to enjoy living life and how to be flexible. Shortly after reaching my Venus metrics a couple years ago, I was still in "get competition lean" mode. It took a couple months for me to realize I wasn't really getting anywhere with all my hard work and was frustrated. Mostly, it was mental. 

I decided to do something crazy. I stopped trying so dang hard to reach smaller metrics, body goals, and all the other stuff I deemed necessary to joy. Instead, I let go. I began listening to my body, doing what felt both right and good, and relaxing about the rest. It was, and still is, the very best thing for me. I learned another lesson in trusting myself. There is absolutely nothing wrong with getting competition lean. But it's a season, and for many it isn't a season that can be stretched out for indefinite periods of time. Sometimes we have to count the cost. The cost at the time wasn't best for me. 

There is also adaptive components to maintenance. I am learning to change up my routine or my workout when I feel unmotivated about workouts. There are also life changes that require workouts changes. My husband and I recently relocated 2300 miles, from mountain life to ocean life. While I had spent the last couple years lifting heavy weights at the gym, I was suddenly faced with a new challenge. There was no gym and our new home didn't have space for heavy weights. At first, I was frustrated. What was I going to do now? I quickly realized my new life change meant a change in my training. This wasn't an easy change at first. The first few weeks of no gym I had a lot of anxiety! Heavy weightlifting had become a security blanket and it was time to put it away for a while. Without access to the barbell rack, I've had a chance to work on some old gymnastic training, flexibility, and explore other workouts–areas I neglected for years, and that I really missed doing. 

Honestly, maintenance is about learning to live from out truest, healthiest selves. The main focus of fat loss phase is so you can make changes in your body and, most importantly and what gets left out by a lot of people, live life with new lifelong habits, and keeping Venus tools for when you do let the house go and need to whip it back into shape. You learn to listen to yourself, learn what works best for you, what is sustainable, what is joyful. You learn balance. 

Maintenance is choosing to be Venus for LIFE.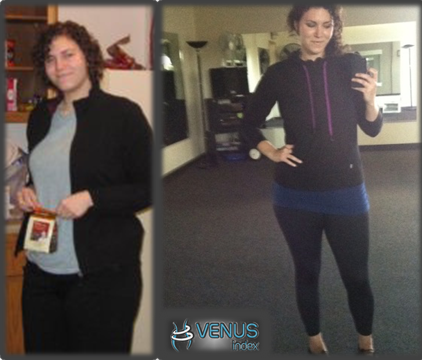 Ketty's Metrics Using Venus
(Note Keturah had lost about 100 lbs before even finding Venus in 2011 on her own! WOW!)
Weight
Height
Waist
Shoulders
Hips
June 2011
217 lb
71 in
~35.5 in
~46 in
~50 in
April 2016
175 lb
71 in
27.5 in
43 in
42 in
Deltas
-42 lb
0 in
-8 in
-3 in
-8 in
Watch Keturah's interview with Liss below:
Listen to Keturah's interview with Liss below, or download it for later:
Podcast: Play in new window | Download