If you thought you were just 'big boned' or a big person and doomed to be 'big' think again. This is exactly how Felicity thought of herself and never thought she could slim down, or lose weight and get the body she wanted.
Instead of focusing and believing she could change the shape of her body she focused on building strength and power. At least this way she was making progress.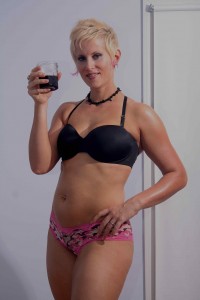 Being a nurse Felicity explains that they are notorious for back injuries so part of her training focus was to build her core strength, which eventually just bulked up and made her midsection thick. This might have built some strength, but it also gave her a thick blocky waist.
Turing to the advice of a sports nutritionist she followed the instructions she was given to a tee. She felt good, and got 'firmer' but didn't lose any weight. This is because her 'nutritionist' recommended far too many calories for her to eat. This obviously lead to frustration as she followed the instructions but didn't get the results.
Once she started with the Venus Index system she started to get the results she was after and actually experienced a relief to finally be putting the effort into something that is actually working.
Following the wrong instructions to a tee, are just going to get you frustrated and feeling like a failure faster.
Having dedication, effort, drive and desire is not enough, you also have to be following the right plan. Once Felicity started on Venus she took it and ran. The results speak for themselves as she won our second transformation contest.
Felicity shares the keys she found that helped her make such a great transformation.
John
LISTEN:
Podcast: Play in new window | Download