In last weeks interview with Alison Scott we talked about the workouts, the mindset of focusing on proportions and shape and setting the target of the Venus Index Ratio instead of body weight.
In today's podcast we'll talk about diet, the Body Centric approach to eating and specifically what Ali did to get into her current shape.
We'll discuss the social eating patterns and thought processes that she went through developing her own personal body-centric eating patterns that helped her shed between 15-20 pounds of excess weight to reveal her true Venus figure.
At any given moment in our modern western societies food is available, and lots of it. Even if we're not intending to eat somehow food seems to finds it's way into our mouth if we're not consciously avoiding it. If this sounds like an issue you have dealt with in the past (or are currently dealing with) then today's podcast should help you out.
Ali shares all kinds of tricks and tips that helped her navigate the daily minefield of the North American 24/7 food culture and get into the best shape of her life.
She'll also share more insights and mindsets that helped her navigate her social circles and daily routine to keep her on track.
As you might have already guessed, getting to your ideal Venus Index requires more than just a workout, and more than just a diet…it's the combination of the right workout with an eating pattern that fits your lifestyle.
There is no right or wrong way to eat, there is just the way that fits for you that gets you to your goals. Your life has it's own unique set of challenges and it would be foolish for me or anyone else to tell you  exactly how to eat, when to eat, what to eat, what not to eat etc.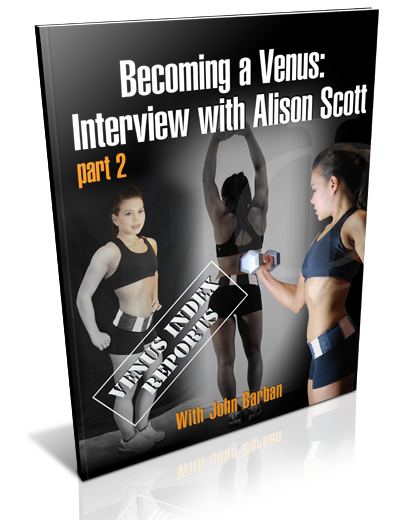 Following inflexible diet "rules" will just lead to failure. Instead general dieting "principles" that are flexible to your lifestyle are the real path to weight loss and body transforming success.
With that said, there are many useful tips and trick in today's podcast that I think you will find useful. Not ALL of them will apply to you, but I guarantee SOME of them will.
John
READ:
Download the transcript here:
Becoming a Venus PART 2: Interview with Ali Scott
LISTEN:
Podcast: Play in new window | Download