Life sometimes gives us setbacks
How many times have you heard someone say that they got sick and so inevitably the weight started to pile on? Yup, we all nod in agreement. It's not your fault. It's too bad about that but of course you became over weight when you:
broke your leg
had to take care of your sick relative
traveled 7 months of the last 12
<insert your situation>
Life will throw you curve balls. Regardless of the reason, just because you're not able to exercise, gaining weight is not inevitable.
Because in order to maintain how much you were eating you exercised.
Since you had a valid excuse for why you could not exercise, you had every right and reason to gain weight. Right?
Do you tell yourself this story? It's hard not to. Anywhere you turn, including the news, movies, fiction, even supposedly scientific books, you will find the perpetuation of this myth: You have to work it off.
The flaw with this logic is the minute you hit a setback, if you habitually eat the same amount, you will gain weight and you will believe it's out of your control.
Illness is no excuse
Your next setback is waiting to happen.
It happens to all of us.  It's a matter of when.  What will be your plan?  You can learn to handle the situation and maintain your weight.
How fast are you "running"?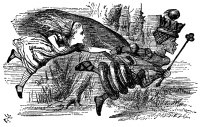 Have you read "Through the Looking Glass", the sequel to "Alice in Wonderland", by Lewis Carroll? A famous quote from The Queen has always resonated with me:
"Now, here, you see, it takes all the running you can do, to keep in the same place. If you want to get somewhere else, you must run at least twice as fast as that!"
The fact is that simply maintaining is work.
You can't over exercise too many calories, but you can learn to eat within your correct maintenance calories which are dictated by your height, gender and activity level.
The sooner you learn how much your body actually needs each day to maintain with your current lifestyle constraints, the better prepared you are for life's setbacks.
This year I was broadsided by illness that set me back for two months, I could not work out at all. After that, I began the arduous process of regaining my strength.
Do you suppose I piled on pounds of fat?
No indeed, I did not.
And why is that?
Because I have a very clear idea of how much I need to eat to maintain my weight.
When I was forced to drop the gym habit, I simply cut back a bit on calories. I didn't cut back as much as you might think. I just made small changes. A little less here, a few missed breakfasts, ice cream less often.
I made simple changes and I watched my waist metric. Without the ability to lift weights I simply had to eat less.  Every time the tape measure started to increase, I made a few adjustments to keep it in check. I rested, got well, and got the mental mindset to get back in the gym.
Every single time you have to start the gym habit again, it does require some discipline. The good news is habits don't ever go away; they lie dormant.
The first week I was very sore. I had to talk myself into showing up for the first 3 weeks.  I eventually built up the strength to do the Venus Index Workouts.
We all have illness now and then
In November, my whole family got broadsided by a virus that was sweeping the town. I lost 10 pounds in one week.
I've never been more grateful for the simple fact of health and a strong body. To honor this body, I will not overfeed it or overwork it.
I will instead eat what I need. No more, no less.
I found myself faced again with the need to build strength in the gym. I "ran" to stay in the same place (not overeating in order to maintain) when I was sick. Now I am "running faster" (lifting heavy) in order to get my muscles back into the shape I like.   I follow Brad Pilon's "Fat Loss Divide and Conquer" rule.
What about you? Are you making excuses or are you "running" towards your goals in whatever way you are currently capable?