Here's the first part of this month's UNCENSORED Podcasts Season 2.
Today's topic: Silo Science.
What is Silo Science?
Silo science is focusing on one specific area of research without seeing how it affects other areas. In the case of diet and fitness it's looking too closely at one spot without seeing the bigger picture and how all systems of the body are related. – John Barban
Silo science is like doing a research, but with your blinders on.
Why?
Because silo scientists are focusing only at one specific area and ignoring the rest. But as we know, your body functions as a whole system, so looking into what's going on in one area and ignoring anything else is not very useful for us in real life.
However, this type of research is exactly what's misused online. It's gotten to a point where people are now confused about science and the human body.
The truth of the matter is you have to look at the bigger picture, you can't take only what you like and ignore the rest.  Which is exactly what most the fitness marketers and journalists are doing.
No supplement does just one thing, there's always more to the story.
Case in point, Ever took a pill and experienced side effects?
Every time you introduce something into your body there is always an equal and opposite reaction.
Most people understand this with drugs, but almost no one considers this possibility with supplements.
Not only do people who use silo science try to make a point about how the body works, they often leverage only the abstract or headlines of some papers to conform the research for their benefit.
You should especially be aware of the perfect answers about hormones you see online nowadays, because most people never bother looking at the whole picture, only the results you desire.
Today we are going to look at the reality of the research and it's misinterpreted online and in fitness media.
In today's UNCENSORED training, you will also discover: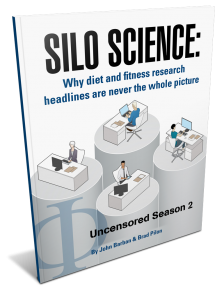 How the mechanics of a study works and what we look at in the research
How the study gets funded and why it matters to you who funds it
Why everything you see online should be taken with a grain of salt
How many people actually participate in the study (less than you think) and how this affects the results of that study
How robust the studies actually are (not as much as the media would have you believe)
Anything that has a dose response will or can have side effects
The reality of people doing the whole gotcha with science argument and scare mongering you into buying new products that you don't need
How to find out if people quoting studies really understand what they are saying or if they just read the abstract at pubmed
Not a Venus Index IMMERSION client? Click here to find out more… and hear a weird story too