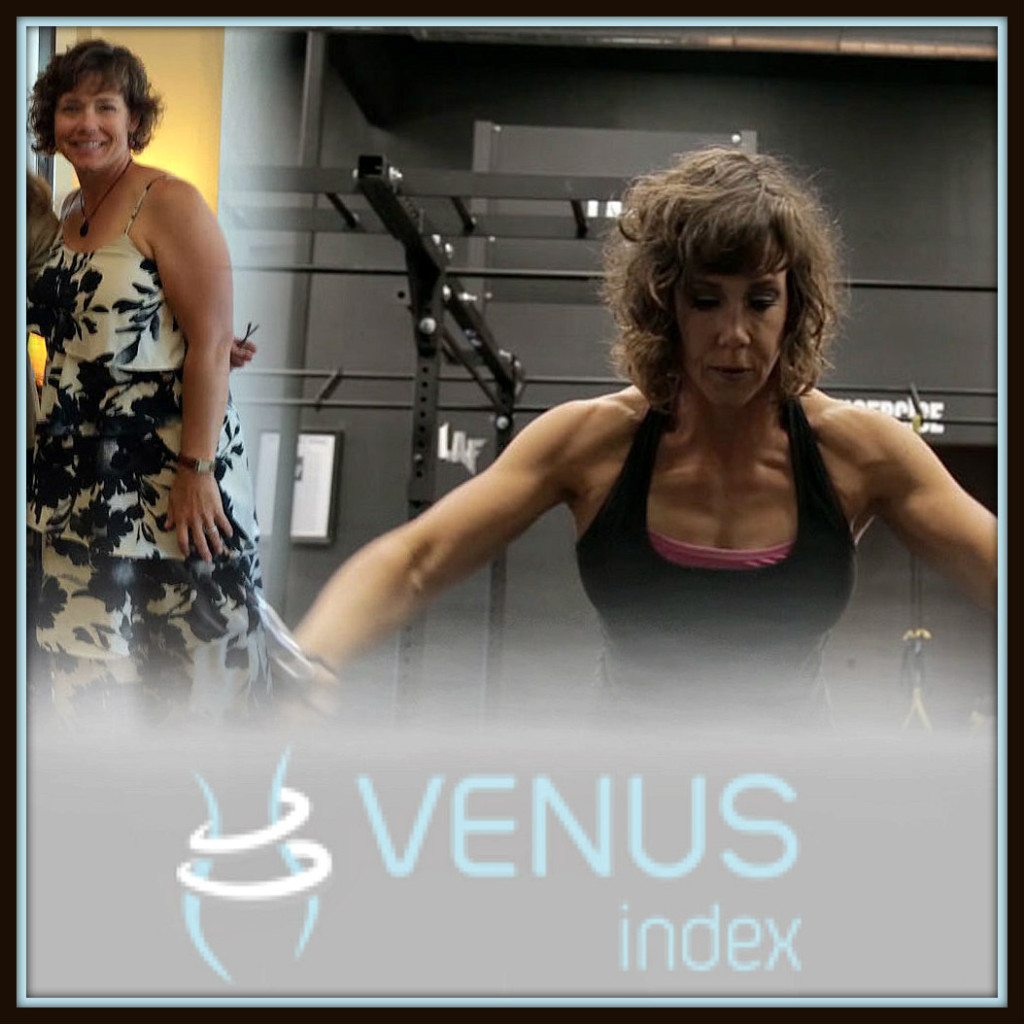 Like so many of us Pam used to be a long distance runner.  There is nothing wrong with distance running, but it may not be the best strategy for fat loss like most of us thought.
The excess endurance workouts make us fatigued, drive some of our needed hormones down, thus makes us extra hungry and then we overcompensate with extra food.  This hinders fat loss.
Pam has always loved working out, but when she switched her focus to resistance training and diet she found success.
Pam was one of our Venus Transformation contest winners.  Here is her story in her own words:
Here I am a personal trainer who is supposed to be helping my clients get fit and I was not fit and a bit fat! I complained to my husband a lot about how horrible I felt. I just really didn't know what to do and was feeling very low. I was at a high weight for me 159.8 and pulling my hair out.

Then I remembered Venus.

I had purchased ESE a while back and read it and it all made sense but it just wasn't the right time in my life to implement it. I had listened to Venus podcasts before and thought the whole concept was nuts! I mean, I am a fitness professional- eating below 1000 calories and skipping meals is horrible for your metabolism!

Yes, I fell into so many of the fitness fallacies, it's not even funny. I got every fitness magazine, email from too many health experts, books by the loads of people in the health field- I thought I knew it all. Well, obviously I didn't.

So, I bought Venus in August and jumped in with both feet. The time was right for me and I needed to make a change. I kept the first month under wraps. I didn't want to tell my husband and then have it not work. I remember finally telling him and being amazed at the results and happy to have finally found out what works for me.I feel like I have an advantage over a lot of the other girls in Venus. I have a lot of exercise experience, was familiar with all of the exercises, thrived on the weight workouts and have a bench and weights in my backyard so it was super easy to fit into my day.

Reading the blogs from newbies who haven't really exercised or aren't able to do more than a couple workouts a week made me feel like I was so far ahead of the game! And not only do I love working out, I really love the Venus workouts. I love how it's hard work but not so crazy hard it leaves you wiped for the rest of the day. I was working for a women's boot-camp style gym for the prior 3 years where we did a lot of box jumps, burpees, jump lunges etc and it was super fun but really exhausting.

I never felt like that after a Venus workout. In fact my body felt so great that I lifted almost every day of the last 2 months. And felt better and stronger every single day. 1-2 times a week I even got in double days. My body has always thrived on movement and the Venus workouts really have made a huge difference in my world.

There are so many things I have learned along the way these last 12 weeks.  I was a holier than thou, super judgmental, food snob who needed to relax, stop reading everything regarding health and fitness and just make it happen. Venus put me on the right path. The one I've wanted now for so, so long. I finally feel like I've got the magic ticket to life long health and fitness. There were a few stumble forwards along the way just like I had heard on so many of the podcasts. But that is life- it's never just all smooth sailing.

On a final note, I cannot really believe how this year has turned out for me. The beginning was so horrible. Death, illness, depression, injury- I was just a huge mess. To have turned almost all aspects around and be in the best shape of my life at 47 is thrilling! Not only did I go through with it, I rocked it and had a hell of a time along the way.

Thank you for this amazing program.
The community is amazing.
The program is phenomenal.
It is life changing.

Pam
Pam still loves working out even more than ever now.  She enjoys summer vacations and time with her family.  We all have seasons of the year and seasons of our life.  We fluctuate a little as our bodies have these ebbs and flows and seasons.  But that is life.  Because of Venus we know what to do if we want to "work a little off".   Sometimes we might get a little "off peak" after summer vacations, but it's no big deal.  We slowly and patiently bring it back, and we KNOW it's never the end of the world when we take the time to enjoy life a little.
You can find Pam active in our online community as an Ambassador, you can read her blog in there, and you can see her in a video interview.
Here's the audio podcast where you can hear Pam tell her story:
Podcast: Play in new window | Download