Malissa placed in our VT11 Venus Transformation Contest
She works as a nurse on the night shift and is a busy mom, despite these obstacles she still was able to transform her body and mind in spectacular fashion during the contest!
 This is what Malissa had to say about her transformation in her own words-
Wow is all I can say. I accidentally clicked on this ad on facebook six months ago and its the best mistake I've ever made. Went into this with no expectations just wanted to lose 20-30lbs and discovered I love weights and I'm so mad at myself for having a gym membership and using it for cardio classes. This program has helped me get to a level of fitness that I have never had in my entire life. The program has changed my life forever and helped me find a new passion.
Working the Night Shift
This what Malissa had to say about how her she fit in nutrition with her work schedule-
I am a night shifter; I work 12 hour shifts 7pm-7am 3 nights a week on a very busy medical floor. I fell into the trap of mindless eating like many people do when they work shift work. Many times you eat to stay awake or you are just hungry for no reason. And you work with other people in the same boat who believe they are overweight because of the shift they work and lack of sleep screwing up their metabolism. But there are people who work these shifts and don't have an obvious weight problem. So as I started Venus factor I had to take into account I would be eating 1000 calories on most days and I would have to keep to that deficit even on the nights that I worked. So I planned my meals out in advance I would fast until 3 or 4pm on days when I was working. I would many nights eat my dinner and snacks by 11 or 12am and just drink coffee, tea, energy drinks, and diet soda after that (caffeine is the sidekick to a night shift nurse). I packed my lunch and avoided the hospital cafeteria like the plague. I would try and save maintenance days for when I knew co-workers were planning on bringing in food but many times I had to pass because someone is always bringing in cake for no apparent reason or quick high calorie snack items and happy to share. I have become a foodie with protein powder so I made a lot of desserts that I could have and brought them into work and let my co-workers test them out too. I am a big fan of the mind set of "Eat what you love everyday" if there is something you love research it find a lower calorie version and make it yourself. But honestly many times you just have to learn to say no and walk away because it is not part of your ultimate goal, and no food tastes as good as being able to fit into the clothing you want feels. So if you are doing this and you work these crazy hours like me know that it is possible. Logging and planning ahead were my biggest tools I had flops nobody is perfect, you just have to make sure flops are not a consistent part of your routine. As for food choices protein and low carb are better friends to night shift if you eat high carb it actually contributes to your fatigue and sluggishness. So I found that avoiding the grains and high sugar foods helped with my energy levels along with all the caffeine. Now as I am in maintenance I tend to find I have better luck with eating a little lower on days where I am home and eating at maintenance on nights when I work.
Malissa Loves the Online Community
You can read her blog here and interact with her in the community.
Here is more about how Malissa did it
How did you find the Venus Factor?
I came across the Venus Factor on Facebook after the holidays when I was beginning to gain some weight back after a long streak of slow weight loss with calorie reduction and taking group exercise classes 4-5 days per week. I watched the brief video and thought it kind of made sense. I liked the cost of the program and decided to give it a try.
What aspect of the program was most beneficial to you?
The aspects of the program I found most beneficial was that it was electronically downloadable and I didn't have to wait for anything in the mail. I could start pretty much right away. I liked the mobile version that I could take with me to the gym so I could access any videos of exercises I was doing that day.
Did you like the Venus workout?
I love, love, love these workouts they provided a variety that keeps me from getting bored. They really helped with my core strength which I needed desperately suffering from lower back pain on/off. They make you look taller more confident and really help you achieve strength to do things that many women don't find easy like pushups, pull ups and I think I might actually be able to climb a rope now.
Which workout(s) did you use?
I used the original Venus workouts at the beginning then moved onto Final phase and I was into Phase 3 at the end of the contest. I also used Slim in 7 pre photo prep. Now I have moved back into Final Phase with Venus Circuits and Specializations on off days.
What kept you motivated?
The thing that kept me motivated was that my weight loss was actually noticeable more to others than myself. Even my husband noticed. I was losing a clothing size about every 2-3 weeks it seemed, I started off at a size US 12 and was in a size 4 by the time the contest photos were submitted. I was also motivated by the things I was actually able to do when I got down to a smaller clothing size. I could actually support my own body weight and it was no longer difficult and awkward to do activities like running and spins and turns with ballroom dancing.
Do you have a particular style of eating?
Style of eating… hmm… I really like a variety of foods I am a big fan of cottage cheese, greek yogurt & I never seem to get bored with chicken. I will say that the intermittent fasting technique opened my palate up to try vegetables that I might have passed my nose up at before. Bottom line if you are truly hungry you will eat and these are the times when I introduced a new food to my taste buds.
Did you use the Undulating protocol? If so how did it work for you and did you make any modifications?
I used the undulating protocol for the 1st and 2nd round of Venus. The 2nd round fell during the summer so I moved my maintenance days to fit with cook outs and date nights.

Did you use any supplements?
I use whey protein powder if I am getting behind on my protein requirements. I have recently discovered the Quest bar (yum). I like to make my own food and manipulate recipes so I can increase the protein and still try and keep things low on the calorie counts. I was taking raspberry ketones and green coffee bean at the beginning but stopped and guess what the weight still came off so I don't waste my money. I just do a women's multi-vitamin and natural progesterone cream to correct some estrogen dominance that can interfere with my appetite.
Did you use the online community and how was that experience?
I started blogging after I had been doing Venus for 6 weeks and already started seeing results. I went on the blogs and saw all of these incredible pictures of women and the noticeable changes that were happening. The blogs are great it is like your online support group because you will truly need support. No one else around you will probably be doing this and when you give them details that is when they give you there unsolicited advice and it gets very old very soon.
Did you find support with friends and family?
My husband was on/off with the support wagon he gradually accepted that I had become someone different. He really didn't like me going to the gym and leaving him so then he joined the gym. Once the scales tipped in our relationship he felt the need to change as well. Most everyone has been very encouraging and supportive of me. I did have a couple times when people would pig out in front of me and laugh about it. I heard a couple anorexic comments people love to throw that out.
What was the hardest obstacle to conquer?
The hardest obstacle during this process is when I reached a size 4 for me that is something I really could not believe when I ran into Old Navy grabbed a pair of pairs put them on and they fit perfect. I was never even this small in high school.
How did you feel about your final pictures?
My final pictures I had done Slim in 7 and is started to get pretty miserable by the last 2 days. But I would say it was well worth it. I love my VT11 pictures they are the best pictures I have ever had taken. I can't believe that I am able to look at myself in a bikini none the less and not want to cringe or pick my body apart for everything that is wrong with it. I look balanced, lean, strong, and confident. Actually, I look even better than I did before I had 3 kids!
Is this a lifestyle you will continue? 

This is absolutely a lifestyle I will continue. I love weight training. I now have so many workouts to choose from because of Immersion. I may not always track but can always go back to that tool as well as many of the others. I now have an understanding of how I got to be obese and how very easy it is to do. I now also possess the knowledge of how to correct the situation and prevent it from getting to that point again.

What is your best advice for other Venuses?
Best advice for other women on Venus is: Do those workouts, Blog, don't get discouraged by what you see and compare yourself. Try all the tools and see what works for you. It is a learning process and in the end you will have learned what you need to maintain. That is the ultimate goal to maintain. That is what I like the most about Venus the creators & coaches don't want you to rebound they want you to find maintenance
Malissa's Before and After Pictures & Metrics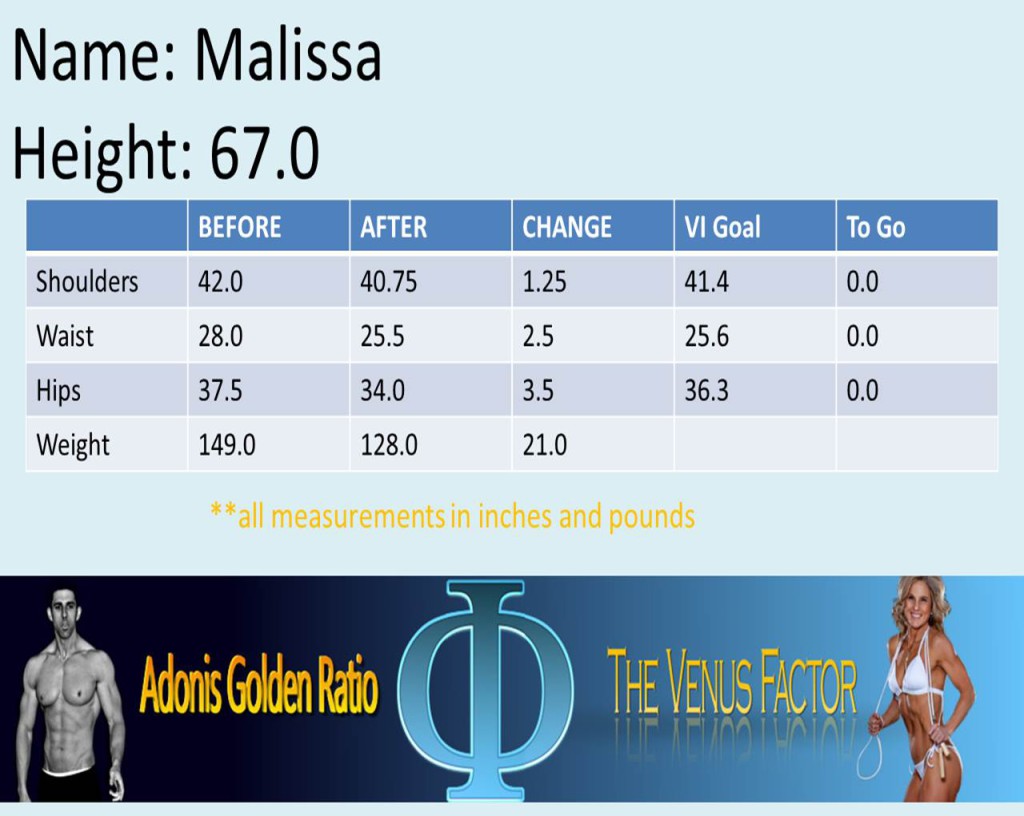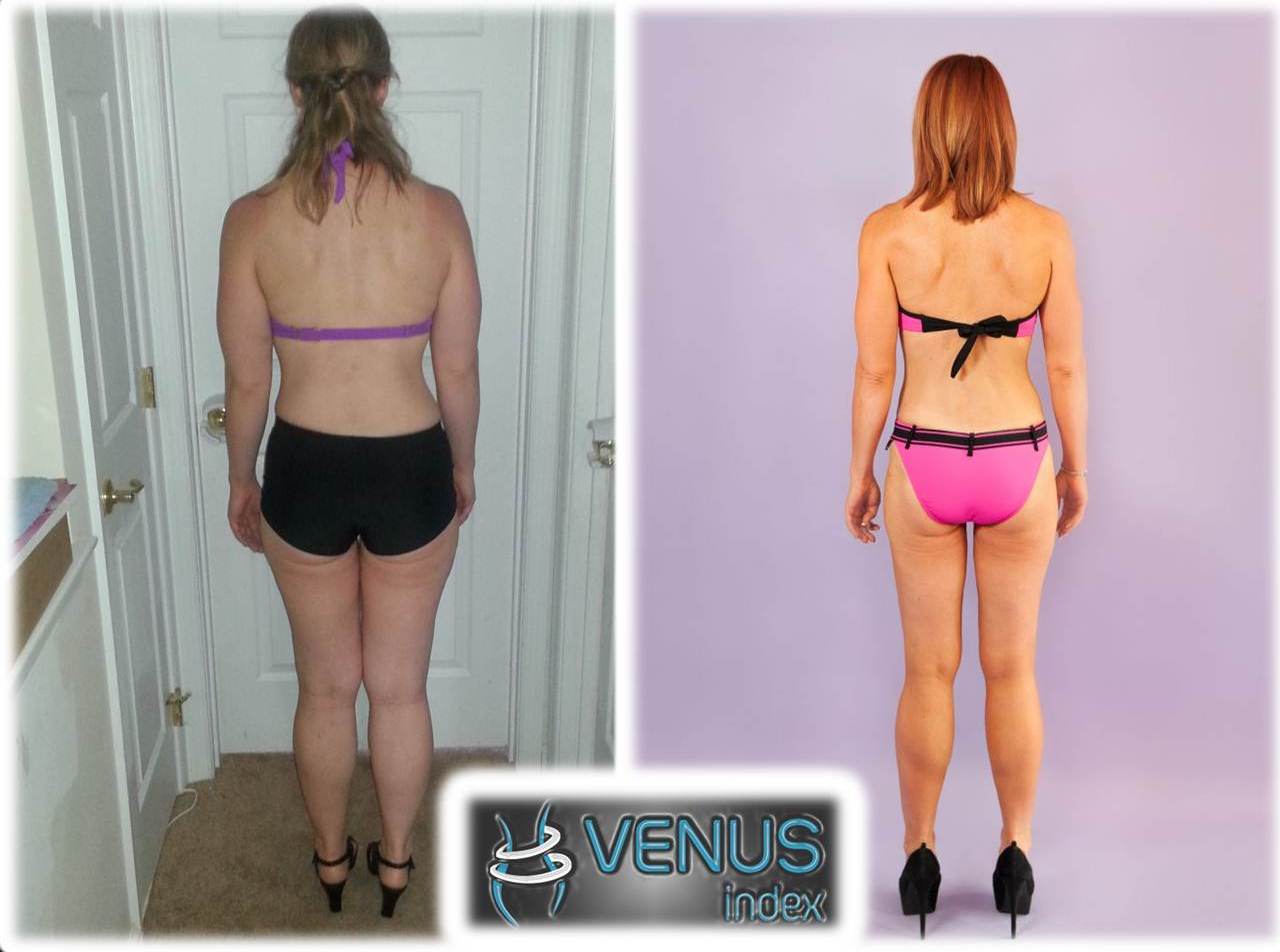 Listen to Malissa's podcast here-
Podcast: Play in new window | Download