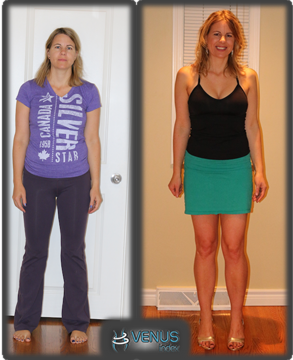 Laura placed in our recent VT15 Venus Transformation Contest.
She did a phenomenal job and her results display the hard work she put in.
Here is what Laura had to say in her own words:
"My experience with the Venus Factor system"

I have to say that I was a teeny bit skeptical about the Venus System when I first went through all the elements. Yes it made sense from a scientific point of view, but there are so many other get fit schemes in the market that I wanted to make sure I was putting my beloved body through a safe and trustworthy system. I then researched and discovered that John Barban is a fitness genius and has plenty of credibility. His explanations are valid, so I make the commitment and signed up! The primary focus I took was on the eating system using the morning fasts about 4 days per week, which made reaching the deficit goal much easier! I was not hungry apart from some days on a couple difficult weeks. Juicing from time to time helped me to get in extra vegetables and healthy nutrients. The forums are also great to read, they were instrumental to me at the beginning to wrap my head around how to really implement this into my life on a daily basis. The fantastic tips I learned from Roberta, Lissa (ah-mazing recipes thanks) as well as the other coaches and regulars on the posts and podcasts gave invaluable, uplifting recommendations. I have weights and other personal fitness gear so I could do modified workouts if I was working from home, on my back deck or would make the trip to a gym. I also bike to work a few times a week though as warned, that can be a little too much and make me more hungry and tired, so I avoided excessive cardio. Since I work in the field of health and physical education I wanted to be walking my talk more since I had got out of past routines over the last year with extra stress and responsibility adding pounds on. The Venus Factor system was the vehicle I needed to get there! The first few weeks of my subscription I lost 4 pounds but there was no contest to start until late August, then I lost the rest of the pounds and inches here in Contest 15! I am delighted to have improved my body to where I feel stronger and more energetic. I can even say focus is better. I have received several compliments and am motivated to keep going in order to shred, shape and tone even more! This is the end of one contest but the beginning of a new framework that is now over the weeks ingrained into me, on how to live a healthier lifestyle. I'm going to keep going until I reach my goals. Thanks Venus Factor!

Laura's Metrics
Weight
Height
Waist
Shoulders
Hips
Before
151 lb
67.5 in
36 in
45.3 in
42 in
After
141 lb
67.5 in
28.8 in
42.3 in
35 in
Deltas
-10 lb
0 in
-7.3 in
-3 in
-7 in
Listen to Laura's interview with Liss below, or download it for later:
Podcast: Play in new window | Download