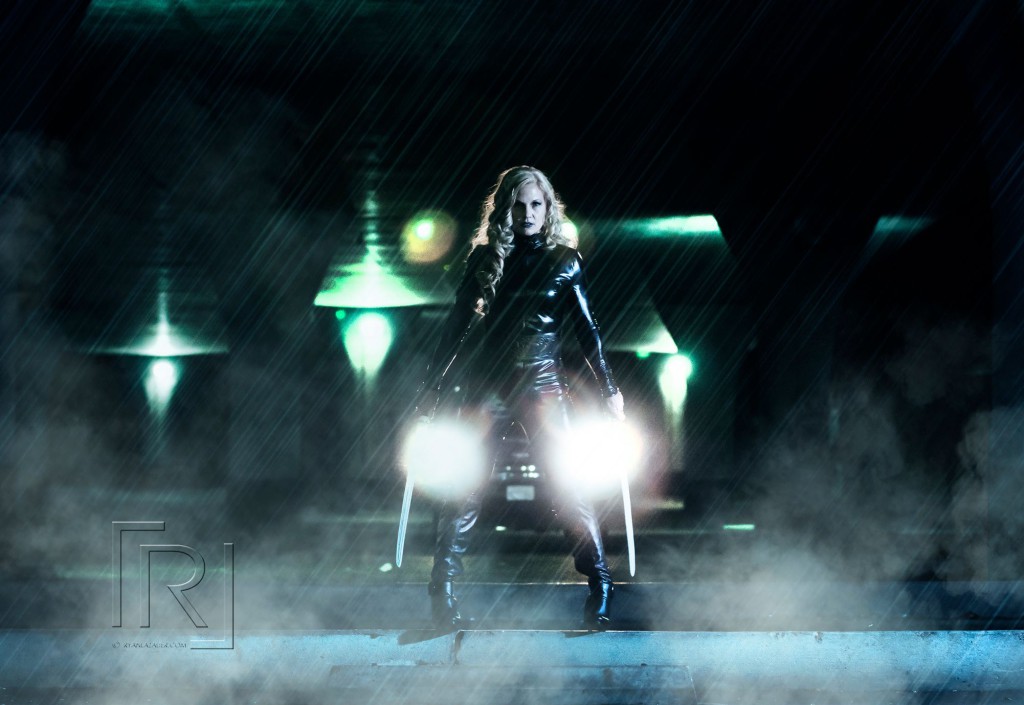 Sometimes you have to have a warrior mindset to get back on track!

My friend Ryan took this picture of me last summer

and I felt he caught my warrior spirit!
What happens when your body adapts to too much food?
Do you ever notice that sometimes after a feast like Thanksgiving or maybe Super Bowl Sunday that you wake up the next morning feeling really hungry? You might even feel more hunger than normal.
The same thing can happen after vacation, or stress when you sort of "just let it go" with eating. It's easy to lose track of how much food you actually consume.
Your body adapts to what you do and it's hard to change. It's kind of a catch 22. When you over eat your body gets used to it, and you'll still feel hunger when you don't really need the extra food.
There really isn't anything wrong with you when this happens. It's probably a rare case when it doesn't happen.
The same thing can happen when people get used to a calorie deficit. Your body can also adapt to the less food. You will feel it's normal and can sometimes have a hard time eating up to your true needs. This is okay as long as it does not cause a vicious eat low then binge cycle. It also can be okay if your body has plenty of body fat to draw from.  At some point you have to train your body to accept the normal amount of food. This becomes more important as you get close to your goal. This is why the Venus nutrition plan is designed the way it is.
Hunger is complicated. It ebbs and flows in the body according to stress, emotions, exercise, health, and a whole lot more.
Last week I wrote about the stress hunger I experienced. It happens to us all. It doesn't mean there is anything wrong with you. There is a lot of stress in modern life.
Not only do you have more stress, but every where you turn there is all that food. You are constantly bombarded with it. The stores and restaurants purposely pump out the aroma to tempt you. The advertisements everywhere are designed to tempt you. All the treats the co-workers bring in tempt you. It's constant temptation.
The more stressed and ego depleted you are the harder it is to make good choices or have willpower.
If you rely on willpower alone, you won't succeed. You have to find a way to setup your own environment for success. That is different for each person. Most of us have to enlist the help of others.
You have to plan ahead. You have to have some strategy. You also have to adjust as you go along. Things don't always go according to your plan. Your own body and the amount of hunger and stress doesn't always cooperate with the plan. But as long as you do not give up and feel doomed, you can still succeed.
The only way to fail at fat loss is to give up. You will have the peaks and valleys; we all do. Keep plugging along and it becomes a lifestyle. It takes time and practice.
When you arrive at your goal and you won't just stay there. You keep living life, you keep getting bombarded with stress, and you still have to put in some effort.
It's not the long road effort like when we had over 50 pounds to lose, but it is the same skills.
As for getting back on track, you have to muster up a warrior attitude and get yourself determined to make it happen.
How can you recover after a splurge?
Get back on track ASAP. Get back to your normal routine. Everything you do feeds on itself both positive and negative. So tune out all the negative thoughts from your mind, and start trimming your interactions with negative people short or avoid those people altogether if possible.
If you keep doing your routines that move you toward your goal the momentum will start snowballing. This includes anything that helps you; The routine of taking supplements, stretching, workouts, meditation, getting enough sleep, food prep, etc.
The best thing you can do is get going on that as soon as you can. Don't just think about it and make plans, pick something and just do it. It doesn't have to be perfect. I can be going for a walk or cutting out some portion sizes. Take action right away to get the momentum going.
The first day is usually the hardest. The next day gets better. If you keep it up you end up on a roll with it. Your body starts adapting to the routine again and it feels good.
Find a good support group. The private online Venus community is a great place to find support if you need it. Not everyone has a family who supports their fat loss and fitness goals. There may not be many in your life who understand your goals.
Keep something near you that reminds you of your goal for yourself. This is called a Mnemonic. It could be a picture, a slogan, a statue, or whatever you want it to be. As you move forward from one goal to the next this symbol can change.
When I was losing 85 pounds in my long fat loss phase my Mnemonic was a picture of a swim dress I wanted to wear someday.
Right now my Mnemonic is a trophy I recently won at a fitness competition. Since I don't plan on continuing with competitions I've attached a business card to the trophy of someone I'll be working with very soon. In fact I will probably be on location as you read this and it's a surprise. It's pretty exciting for me and there is no way I want to blow it. The Mnemonic is right there on my kitchen table to remind me why all of my daily routines are important.  The trophy itself is still a good Mnemonic for me because it represents the same skills I need right now.
You use all the tools and strategies over and over for life. The very first article I ever wrote for Venus was about this concept "How to Sharpen your Sword and Win the Battle."  This is still true for me three years later, except this time I am the warrior in the picture!
It didn't take me long to get back on track after the stress last week.  I followed the exact process I lined out here and felt back to normal by the end of the week.  I like to get back in the groove as soon as I can.  Here I am doing one of my favorite exercises; pullups.  This is a collection of the last few months, the video of me in the black ball cap was last Friday when I finally started getting my groove back:
Some of you are starting the Venus contest this week. Some of you are shadowing (not actually entering, but putting in the same effort).  Some of you are just plugging along daily towards your goals.
Whatever phase you are in please be encouraged that you are honing your sword to win the battle!
Keep going!
See you on the inside!
-Coach Roberta