These are just the sneak peak pictures. The magazine article and pictures will publish on my birthday coming up on Feb 3rd.  I have to say this is the best birthday for me ever!  But I seem to say that with Venus every year since my 5oth birthday which is exactly when Venus helped me achieve my fitness goal.
First off I must say that no matter where you are at in your fitness journey you are worthy of love and YOU MATTER.  If you don't feel that way – work on it NOW, because how you feel inside doesn't suddenly change when your physical being changes.  The work inside must start now, just as much as the gym workouts and the diet control.
When I first reached the goal of losing 85 pounds I laughed at old pictures of myself.  Randy took me aside once (rightly so!) and told me to never ever disparage myself for when I was over weight.  He told me he always loved me and I was always his lovely wife, even then!  I was at the peak of my weight gain in Rome. It's pretty hard to be on a diet in Italy!  But that was before Venus and before I knew the tools for life.  If I went to Italy again now, I could do it with very little weight gain.
I have the tools for LIFE when it comes to controlling body fat levels, it doesn't matter if it's vacation, holiday seasons, or work stress.  I know what to do and I live the life.
Last weekend I had the absolute honor of working with some amazing and creative people while we celebrated at the Ritz-Carlton in Half Moon Bay, California.
I wrote in more detail about my adventure with these lovely women in on my blog.  We worked hard and played hard and it was a stunning weekend.  I had butterflies for a week prior, but these woman quickly put me at ease and helped me learn how to be a real Fitness Model.  Who says you can't teach a 54 year old new tricks?  But I have to admit we had some laughs at my expense.  I'm learning and I'm having fun while I do it.
Probably one of the highlights was how well the Ritz-Carlton staff treated us during our stay.  It was simply stunning and amazing!
On the first night Shiree Collier (Make-Up Artist/Hair Stylist) designed the look for the two models (Karina LaMar and Svetlana Lana) and me (fitness model).  Shiree was on her feet the longest and she was absolutely amazing, she treated us like queens.
Mariya Milovidova is a designer that help arrange the sets and hand painted the dress Karina is wearing it the picture.  I had a wonderful time talking with her over a well earned dinner later that evening.
I spent the following morning with Victoria and a photographer outside.  The morning started out rough. Before I'd finished my coffee the Ritz-Carlton Salon called me with some bad news about my hair appointment.  It was all I could do to not panic.
I took a deep breath and decided I'd deal with the situation best I could.  If I had to run out to the store to get a curling iron I would just do what needed to be done.  I might be late for my appointment with Victoria but I knew she would work with me if I did my best to roll up my sleeves and "get it done"!
Once I told the Salon I what I needed they went out of their way to help me out.  They were ready to send someone up with hair tools if I needed them.  In the end they scrambled to get their massage therapist and cosmetologist who happend to have a hair stylist license to step in and do my hair for me.
His name is Jerry Lutz and let me tell you he did an amazing job on my hair.  The Ritz-Carlton Salon staff went out of their way to help.  The managers came in ready to help and make sure everything that could be done was being done.
They held up my big locks of hair so Jerry could work on the rest – I have a lot of hair! – as my hair stylist who colors my hair on a regular basis would say.  Right Danna from HairHouse 'N' Nail Saloon in Colfax, California?
If you ever find yourself at the Ritz-Carlton in Half Moon Bay and need a Spa treatment I would highly recommend the staff there.  When I go again I intend to request Jerry Lutz!  What an amazing young man, along with the rest of the staff there.  They all took such good care of me.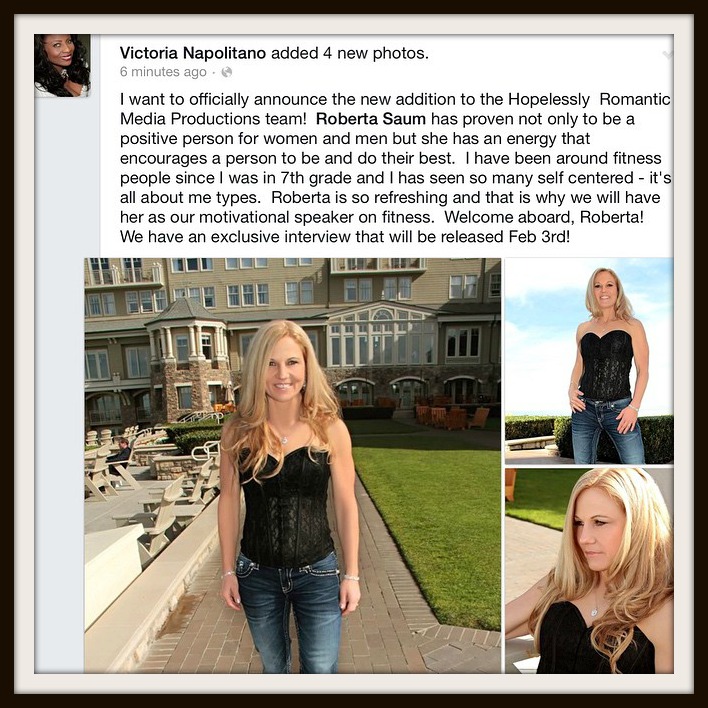 When I got back home Victoria made this announcement on Facebook for Hopelessly Romantic Media Productions.  I will cherish this picture for the rest of my life.  One thing I know is that I'll go to the end of my days knowing I lived life to it's fullest!
Venus, the tools, the community, John Barban, and Brad Pilon taught me how to do this.  I will be eternally grateful to them.
These are just a few sneak peak photos from a few minutes outside before I left to return home.
The article with more pictures will publish on Feb 3, so it looks like I might have something to write about next Friday.
So far it's the best birthday ever!  I wonder what next year will bring?
Have Hope Venus ladies!
If you are new to Venus, HAVE HOPE.
I just want to encourage you all as you move along on your journey.  Never give up.  Never lose hope.
You too have the tools right at your finger tips for your own success and for achieving your own best.  You can pursue your own passion, whatever that might be.
As Coach Jenny would say "Just keep swimming!"
Have a beautiful weekend.
See you on the inside,
-Coach Roberta