Heather placed in our recent VT15 Venus Transformation Contest.
She did a phenomenal job and her results display the hard work she put in. Her transformation stretches out further than this 12 week period though, she has lost over 30 lbs using Venus!
Heather before starting Venus in 2015 and after this 12 week contest, unbelievable!
Here is what Heather had to say in her own words:
My experience with Venus has been amazing. My life long search for the program that works is finally over. I have found it and I am hooked. I am a 47 year old woman with a wonderful husband and 4 terrific grown children. However I was struggling with self-image problems, low self-esteem and was just unhappy inside. Like many other Venus ladies, I tried every diet program out there, and purchased several exercise DVD programs. I was successful in my goal of losing weight but as soon as I hit a certain point the motivation to stick with it disappeared and the weight started to climb back up. I had convinced myself that I was just meant to be overweight and my genetic chemistry was preventing me from being slim. Then in March of 2015 I found Venus on Facebook. I listened to John's story about his sister and how he developed something that was specific to women who battle with this issue. In my first 12 weeks on Venus I lost 20 pounds and 24 inches off my body. One thing I had never done in previous weight loss efforts was to combine the diet and the lifting. I had done both separately thinking it was enough by itself. The other aspect of Venus that was hugely motivating for me was the all the information I got through the podcasts and blog posts. I love, love, love John and Brad's podcasts. I listened to them whenever I could. They blasted away every myth I grew up believing, every misconception that I had adopted just because a fitness professional said it and I was finally able to break away from all the bad information that I had stored in my head and replaced with the facts that John and Brad's research had taught me. So after my first 12 weeks of the Venus program, it was May and summer was coming. I decided that I would take a break from actively losing, and applied the same principles of the program but eat at maintenance most days and at a deficit 2 days each week. As August approached I had maintained my 20 pound weight loss. I was ecstatic. I had never ever done that. In the past as soon as I stopped following the weight loss program, instantly the weight started creeping back up. This was when I decided that I would enter the contest to further motivate me to continue my journey. Here I am today at the end of the contest and I am more motivated than ever to continue my journey to get to my ideal Venus Body. I am not there yet but I am loving my new body, my new outlook on life, my new self-confidence. Not just my body changed, but my life changed…and people have noticed. This journey has been amazing and I am so grateful for John, Brad, Liss, and Roberta and all the ladies on the forum for their constant efforts to encourage us, educate us and provide effective tools for every woman to utilize in reaching their fitness goals. Thank you all.
Heather's Metrics
Weight
Height
Waist
Shoulders
Hips
Before
140 lb
62 in
31.5 in
41.7 in
37 in
After
131 lb
62 in
29 in
38.8 in
36 in
Deltas
-9 lb
0 in
-2.5 in
-3 in
-1 in

Heather is a beautiful Venus! Nothing can stop her now!
Heather's AWESOME Home Gym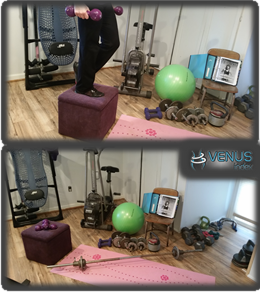 Listen to Heather's interview with Liss below, or download it for later:
Podcast: Play in new window | Download