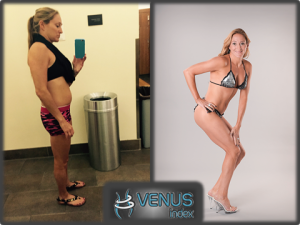 Christine placed in our recent VT15 Venus Transformation Contest.
She did a phenomenal job and her results display the hard work she put in.She lost THREE INCHES off her waist in twelve short weeks!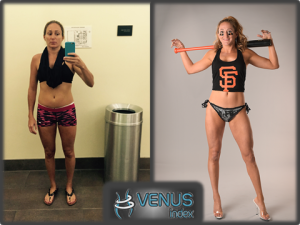 Christine before and after this 12 week contest, unbelievable!
One of the things that makes the Venus program very unique is that it can take an average physique to cover model as Christine's journey highlights.
Here is what Christine had to say in her own words:
I was stuck and needed something to help get me to the next level of fitness. I have always been active but never really focused to get results I really wanted for myself. Honestly, I was afraid to fail not in the workout side of things but in the mental aspect regarding food choices. I have always felt I was mentally soft regarding my control on food but strong in the gym side of programs. If I wanted it I would eat it. I have always been like that but as I have gotten older the body wouldn't bounce back as easy as before. I knew I needed to challenge myself and prove that I could have control. The only person that could change that was me. I needed a program that I could actually follow and still live my life with my family. Venus was my answer and I am so happy I accidentally feel upon it and decided to work with a coach. Venus and Coach Liss gave me the tools and the rest was up to me. It was game on! I reached my goals and I am so HAPPY I accomplished what I set out to do! I am mentally stronger and physically stronger now! Thanks Venus family!

Christine before and after 12 weeks of Venus!
Christine's Metrics
Weight
Height
Waist
Shoulders
Hips
Before
129 lb
65.5 in
31 in
41 in
35 in
After
126 lb
65.5 in
28 in
40.5 in
35 in
Deltas
-3 lb
0 in
-3 in
-0.5 in
0 in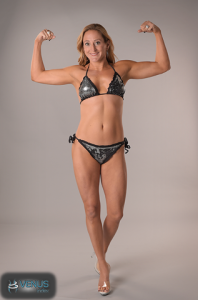 Christine is a beautiful Venus!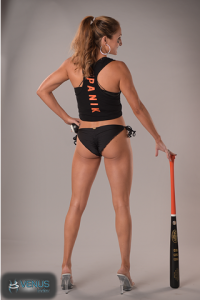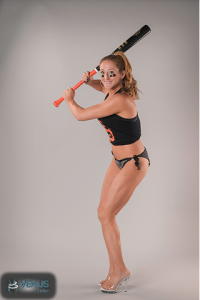 Listen to Christine's interview with Liss below, or download it for later:
Podcast: Play in new window | Download