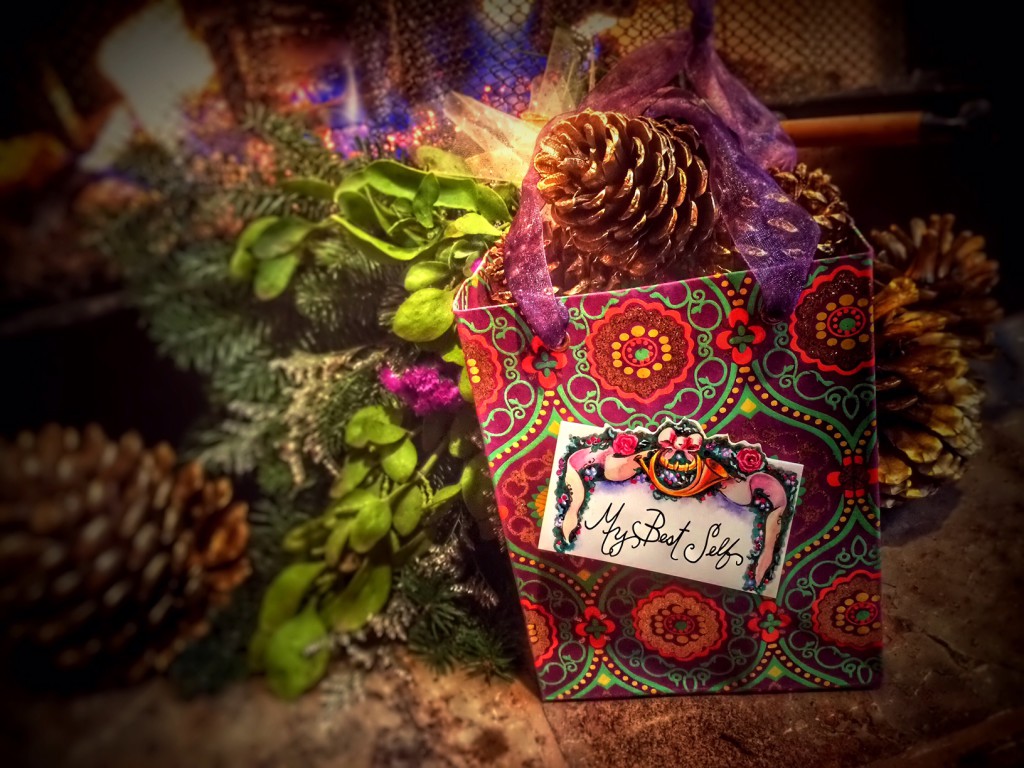 We are inundated this time of year with so much. In the US, the holiday frenzy has been upon us since Halloween, at the end of October. Since then, we've struggled to rein in the onslaught of comfort & joy that is ushered in with good eats and drink. Nearly 12 months are gone, and in a week we will welcome 2016. A new year is just around the corner.
Often as a year closes, we realize everything we didn't get done, didn't accomplish, wanted to do differently. I have tended in the past, at the end of a year, to wistfully look back at missed opportunities. And every time I have done that, it's not made me feel any better about those things. In fact, there's a penchant to scold myself. Basically, I'd give myself a good mental thrashing.
This year is a little different. Since coming to Venus around the middle of September, I've been doing a whole lot of thinking. Yes, I've also followed the Venus protocol. I've logged onto My Fitness Pal and logged calories every day since I joined. I've done the Venus workouts. I've increased my barbell weights. I've weighed and measured my body weekly. I've done the work to watch my body change and shift physically. And, as I said, I've also taken the time to think.
A Gift to Myself
Changing the way I eat and exercise has been a gift to myself the likes of which I never expected to find. I'm still in process of losing weight and building muscle, and frankly, I always will be "in process." But Venus gave me a unique way to look at not only food and exercise, but also myself.
I remember in my first week of Venusing, taking my BEFORE photos was such a terribly painful experience. We read about this all the time, how much people (especially women) cannot stand taking these pictures. And many do not take them. It is just too hard.
In the unforgiving lens of the camera we are faced with seeing, in full detail, everything we have ignored and thus hate about our bodies. We see the cellulite, the stretched skin, the way our fat spills over the waist of our pants and out from under the elastic of our bras. We see the puffiness in our faces. We can't ignore the way our belly buttons aren't round. Our double chins mock us. The dimples of fat and the soft muscles beneath shame and anger us.
Taking those photos put me in a foul temper for about 2 days. The day I took them, I was close to crying and then just felt stupid for getting so emotional. I got angry and started attacking my house and chasing dust bunnies along the floorboards with the vacuum cleaner. The next day I felt such an overwhelming sense of mortification. I reasoned with myself. "Anea, you've already joined Venus. You're reading the manual. You got the calorie counting app. You figured out you can eat 1000 calories and not pass out. You're already doing it. Stop."
My Story Is No Different
I read a lot that first week on the Venus forums and blogs. I read again and again how women had wished they had taken BEFORE photos and then afterward wished they'd taken consistent progress photos. Because of that, I've made myself take weekly photos. When I reach my goal, I know I will appreciate listening to the voices of those who've gone before me.
In the meantime, the photos serve as a guide for what I have done. They help me see the changes I've made. They remind me I have everything I need inside of me to do this. I don't take those pictures because I like looking at myself much more than I did on that first day in September. I take them because it's important to document my success. And also because I'm learning to be a little more empathetic to who I was, who I am, and who I am becoming.
I look back on those pictures of me, especially those first terribly painful ones, and they tell a story of who I was when I came to Venus. My story is no different than yours. I was miserable with how I looked. I hated how I felt, physically and emotionally. I wanted to change. I found Venus and so I did.
Legacy Work for Our Best Self
Changing our own lives, that is legacy work. It's what gives you your story. It's what makes others look at you and say, "Wow! You did that?" And you look at them and nod your head and you say, "Yes. Yes I sure did do that." When we create a legacy for ourselves, it is important. In the scheme of things it may seem small and insignificant to "just lose weight." But the impact we have on ourselves, if we take on the entirety of that journey, it affects those around us too.
I've read and heard, again and again, how the physical changes women have made to their bodies have freed them from so many mental, physical and emotional chains from which they couldn't break free before finding Venus. They've gained confidence. They understand consistency. They know what they are capable of accomplishing. And when we do that, we give our loved ones our best selves. Because that's who we uncover in the process of taking control of our physical bodies – our best self.
As I look back on this year, I'm so blessed with this gift I've given myself. I'm thankful John Barban did his own legacy work and created a program with which so many women have found a way to uncover their best selves. I hope you'll join me in using this last week of 2015 to reflect on everything you've gained as you've embarked on this journey to lose weight.
Merry Christmas, ladies of Venus, and here's to a 2016 filled with more (and less!) of our best selves.
~ Anea