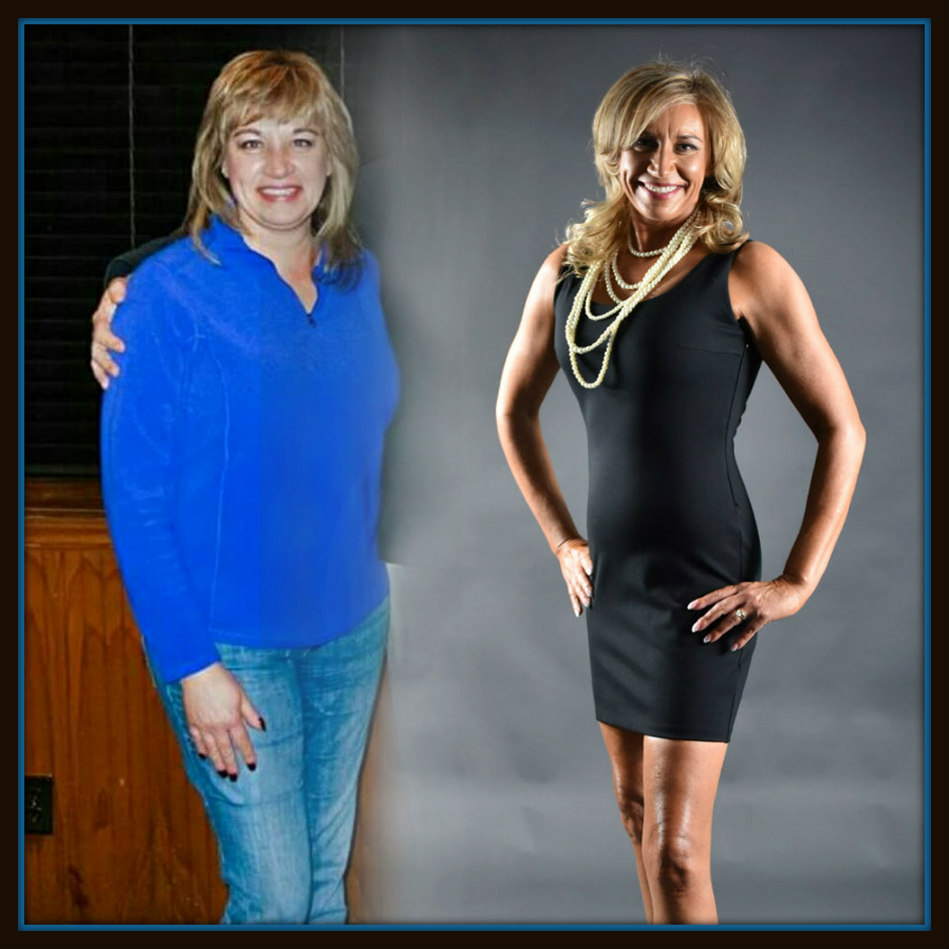 Sandra placed in our last Venus Transformation Contest.
She thought she was doomed to middle aged hormones as age 50 approached, but with Venus she learned this was simply a myth.  Here's what she said about her transformation pictures:
The 1st photo is from February 2015 and the 2nd is November 2015. 9 months, 35 pounds and over 3′ (that's a yardstick) of inches! Am I proud of allowing myself to get in the previous state? No, I'm not! BUT, I am proud of the fact that I made a change! And it's a change for life…thanks to Venus!

This journey re-stirred a passion of fitness for me and I re-certified to be a personal trainer. If you would like to lose some weight and/or gain some muscle mass, I will definitely help you achieve your goals!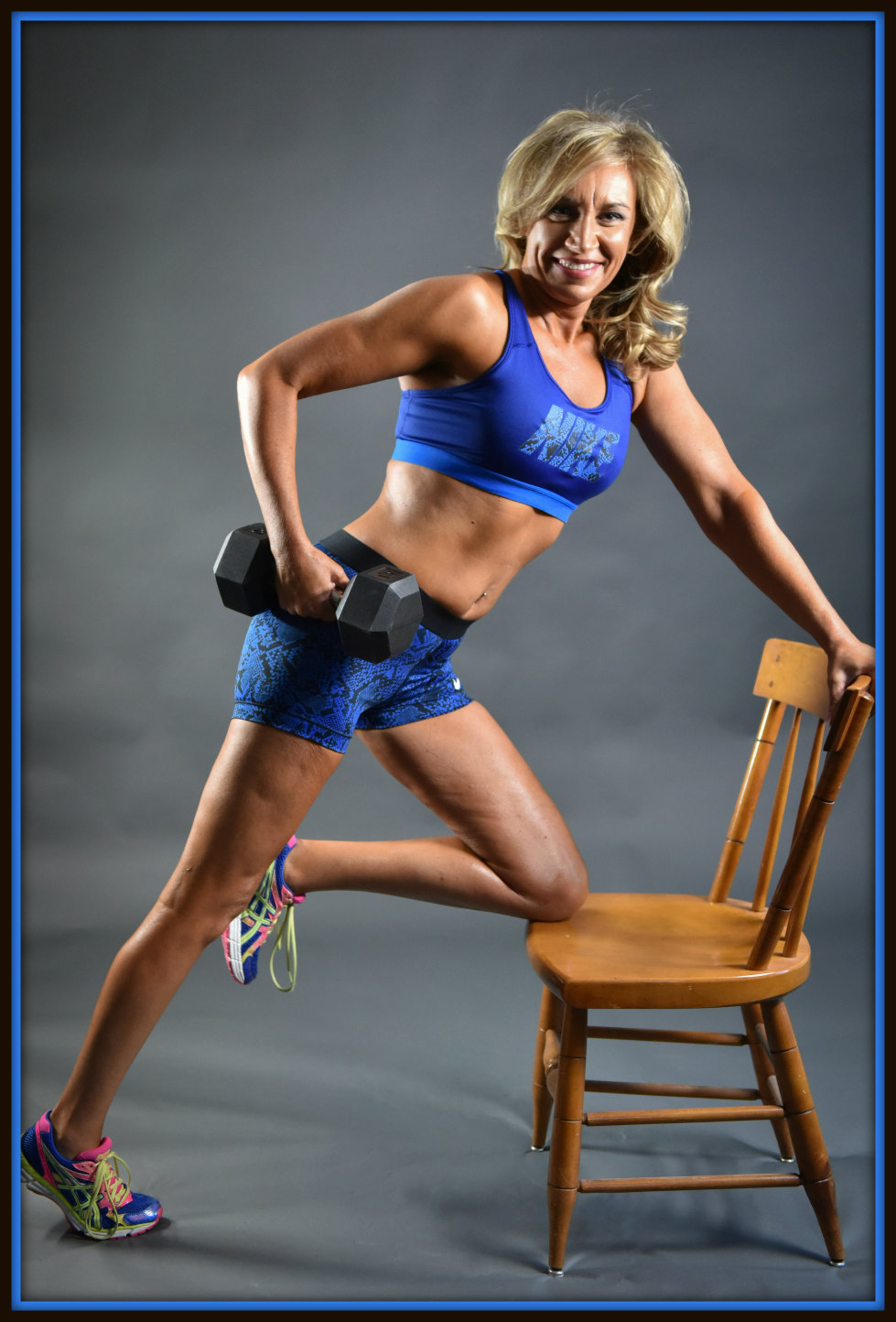 If I was looking for a trainer I would certainly want Sandra!  She has a lot to say about the Venus program:
I, like a lot of women, had succumbed to the mindset of…I'm getting older, I have health issues, my metabolism stinks, I'm starting menopause, blah, blah, blah. I had given up and given in to all these excuses. I had had my first knee surgery in 2008, 2nd one in 2009, and the 3rd one in 2011. All of which I gained a few pounds during recovery. In 2012, I went to a neurologist for chronic back pain resulting from an injury in 2010.

All the testing he did came back with a result of a high positive FANA, which has to do with your auto immune system. After 2 years, multiple doctors and every test known to man, no one could find anything wrong. But I knew from the "swelling" in my face and body, that something was wrong.

Little did I know, or more so, did I want to admit, was that "swelling" was called FAT and that's what I had become!

My wake up call came in February of this year. We had visited some family in Maryland, and of course everyone was taking pictures. My cousin posted a picture on Facebook, and when I saw it, my jaw dropped.

THAT wasn't me!

But the sad fact of the matter, it WAS me, and it was totally not acceptable any more.

Within a week, I went to a gym nearby me and got a membership along with a personal trainer. Soon after that, I was surfing the internet one evening and "stumbled" upon this program called Venus. (I say "stumbled" because I believe everything happens for a reason when it's supposed to happen.)

Hmmm…$47. I had already spent hundreds if not thousands on HcG, NutriSystem, Hydroxycut, Phentermine, personal training, a myriad of other OTC weight loss products, and other STUFF. What did I have to lose? Some weight?

Okay, I'm in. I started Venus at the end of March. When I would meet with my personal trainer, I would tell him, let's do THIS workout. So over the course of the next several months, I was eating at deficit, doing intermittent fasting and doing Venus workouts!

The weight and inches started coming off! I was ecstatic! I was no longer experiencing back pain which was HUGE to me! I had thought of doing VT14 but ended up just shadowing it. About this time I had a revelation.

In 2008, I had studied and became a personal trainer. However, the economy wasn't good at that time, so it was a short-lived career. But working out again stirred that old feeling in me of helping others accomplish their goals.

I talked with my gym about being a personal trainer and they immediately said yes. They were seeing me transform in front of their eyes. So I re-certified in the summer and started training at the beginning of November.

I was once again doing something that I LOVED, and that was helping others achieve their goals! Why have I told you MY story?

Because I know if I'm going through it, there has to be one other person that is going through the same thing. And maybe, just maybe, I can help one person.

What has Venus done for me?

It has EMPOWERED me!!!

I am so fortunate to have found Venus! It has saved my life!

The women I have met on this journey are phenomenal! Roberta Saum is the BOSS! She always provides her selfless time and knowledge to all of us.

Even though I have never met any of you, the friendships I have made are insurmountable! The support of all the women I have met through Venus is beyond words. And the tools that I have obtained…are PRICELESS!

I now KNOW, at the very young age of 50, that I will NEVER be overweight again!

I still have goals that I want for myself and I know that Venus will help me get there! At 50, I AM the BEST I have ever been and I can't wait to see what else I can do!

Thank you John Barban for creating Venus!

-Sandra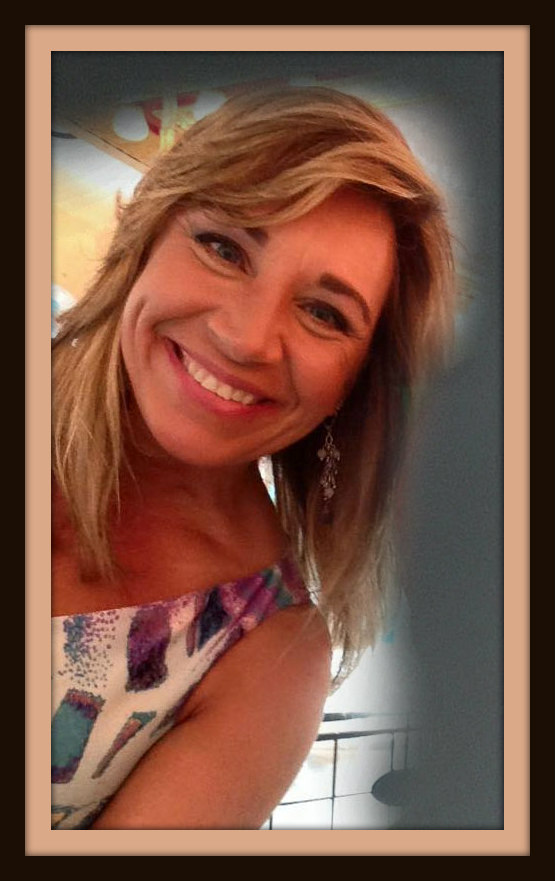 Listen to Sandra talk about her story now, or download the podcast for later:
Podcast: Play in new window | Download